Salt Water Swimming Pool Chlorinators Perth
Warm Springs Pool and Spa Repairs
0409 874 343
I have a salt water pool chlorinator in Perth and it is an absolute dream.  I don't have to worry about mixing chemicals or chlorine as the pool creates its own chlorine from salt in the pool.  I only have to put bags of salt in my pool.
Having said that, chlorinators do not last for ever and I have just recently had to replace mine.  Warm Springs Pool And Spa Repairs can supply, install or repair your salt water pool chlorinator.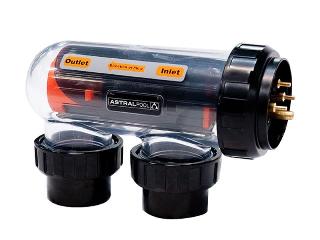 How do swimming pool chlorinators work?
Chlorinators work by exploiting basic chemistry. Get a full run down on the chemistry involved.
How much salt does my chlorinator require?
This will depend greatly on the size of your pool but for an average size pool you will require about 7 x 20kg bags of salt to get started and then about 1 bag per month.
Where should I buy salt from?
You can buy salt from any reputable swimming pool supply store in Perth but Bunnings sells salt at a very reasonable price and they usually have it out the front so it is easy to load into your car.
How much does pool salt cost?
A 20kg bag of salt will cost between $7 and $12 depending on where you purchase it from.
What is the best way to test my salt levels?
Aqua Chek provide a fantastic test strip for testing the salt levels in your pool.  You can purchase these from pool stores or from Bunnings.
Do I need to service my pool chlorinator?
Usually no.  Your chlorinator should run trouble free for 10 to 15 years.  However if you do have problems you will need to call a qualified technician to come and help.
What models of salt water pool chlorinators are are there?
View our full listing of pool chlorinator models.
Astral are a major supplier of Australian pool chlorinators:
Viron salt chlorinator
E25 salt chlorinator
VX salt chlorinator
Viron eQuillibrium
Onga also supply chlorinators:
Common Questions We Get asked
Have a Autoclear A150tl model salt water chlorinator and is beeping 3 times continuously. There is a yellow flashing light which suggests salt low check salt and or clean cell. Also a orange flashing light no water flow check salt and or clean cell. I have cleaned the cell and it continues to beep.
---
Hi.....have a Monarch Series Chloromatic MC20c-0 which is on the blink. Cannot set the time properly on it and the on and off switch is 'dicky.'I live in Mirrabooka.
---
I was the lady in Mount Hawthorn that had a faulty switch on my Hurlcon Salt Chlorinator VX7TL. My house is under offer and I needed to get this fixed.
---
Hi, I have a astral pool E25 salt chlorinator. The cell is fine, but the control box is not turning on. Are you able to have a look at it. Happy to bring to you.
---
Hi Warren I have Autoclear A150TL chlorinator is showing limit, don't know what that means and no water flow.. Don't know what's wrong..please advise or check , I am in Canningvale WA 6155
---
Hi Warren, my house pool is Stirling. Recently, I was advised by the pool man to chlorinator does not produce enough chlorine. I am wondering how much cost to get a new one installed or fixed? I am finding a best quote.
---
Hi, our salt water chlorinator appears to no longer be functioning. It is a Zodiac LM3 and had the electrodes replaced approx 34 years ago. We have a fibreglass underground pool that is 8 years old. We would like someone to assess and repair or replace the chlorinator. We are in St James.
---
Hi Warren. I am located in Huntingdale and have one of the old CLEARWATER salt chlorinator units. The cell needs replacing and so does the cables that connect it to the box. Can you please provide a quote for supply and install of a new one? Thanks very much.
---
Hi Warren, I have a Saltigen SG series that's 3 years old. The digital display light has gone but the unit still works. I was wondering if you could help.
---
Hi I have an auto clear 150 salt chlorinator that keeps tripping the circuit breaker every day at 11.40. am. This is when the pump isn't even on. I have to reset but then it works fine until it gets to that time again. It is 9 years old. Is this fixable?
---
Hello, my Chloromatic is not working. What would it cost to have someone look at it? Alternatively, I am considering purchasing a new chlorinator. What do you charge for installation?
---
I have a autoclear S150T chlorinator in a rental property.  It has recently stopped working. Jim's pools conduct pool cleaning and advise that it needs to be replaced. Can you please give me a quote to supply and install a new chlorinator.

If you need to view the pool or existing chlorinator please advise
---
Can you please provide your fee for providing and installing for us an Astral Viron V 25 Salt Chlorinator and Astral Viron P 320 Variable Speed energy efficient pool pump to our place in Canning Vale?
---
Hi Warren I have a Saltigem chlorinator which requires a new cell part number Eco 16a I have contacted Pool Control but they don't have them, do you know of a suitable replacement cell?? If not can you recommend a good replacement system and price installed , would need a light transformer included. My pool is 6x3.5 metres approx 25000 litres regards
---
I have, I think a 30,000 ltr. salt water pool in Kingsley WA. The chlorinator has failed. I have been told its beyond repair. Is there a chlorinator that monitors and adjusts the chlorine levels ?, I have had problems with over chlorination. Can you suggest a good self cleaning unit. Could you please give me a price for a fitted unit.
---
We have a Hurlcon vx saltwater chlorinator that is no longer working. There is power to the unit but the digital display is blank. The unit has been previously repaired. Do you think it is possible to repair and if so how much would a call out to assess the unit be? Thank you
---
I have a VX7T chlorinator. I was cleaning the cell when the wire broke on the terminal. Can you reattach? Secondly also require a new O ring for the cap end as it leaks. I live in Ocean Reef.
---
Hi Warren, I have an Autoclear (s150T). All of the chlorinator's output lights are lit and the cell has been replaced but the pool but won't maintain chlorine. I'm using 20 ltrs of liquid chlorine per week. Do you think the chlorinator might be faulty if so can it be repaired? 
---
Our chlorinator has not been working since the electrical storm went through on 10th Nov. Our insurance company need a report and a price for replace or repair. We live in Serpentine.
---
Hi Warren, my Autoclear S150TL chlorinator has given up the ghost (chlorine dial not working, continual overloads etc) & I'm looking to get a replacement supplied & installed. Could you please let me know your prices & when you would be able to do the work if I decided to go ahead with it? The unit would need to include a light transformer/timer. 
---
Dear Warren Have eco Saltigem which has been going real well . Has done approximately 10,000hrs and is now not making chlorine. I require a new Chlorinator Cell. Could you please advise me as to where I can purchase a new cell and the approximate cost. If you have a cell I am just as happy to come and purchase it from you.
---
I was wondering if I could organise a time/day with you to get a quote on repairing a Hurlcon VX 13S salt chlorinator?
---
I have a Saltigem chlorinator system with a Halcyon pump and I have two problems that have cropped up. The first is that the chlorinator needs repair/replacement - I keep getting low conductivity errors (I've checked the salt levels and all appears within normal). I took the unit apart to clean it and noticed that the zinc cathode is quite corroded, which may explain why it's not working.
The more pressing problem I have is that my pump has been resetting and I've been getting a "no flow/gas in system" warning. I can't seem to narrow down the issue - as best I can tell the water is circulating normally in the pool and through the pump when it's on and I can't see any build-up of air in any of the visible parts of the pump.
I'm in Carlisle Perth Western Australia.
---
Our 2nd chlorinator is 5yrs 6mths old has just stopped working. Can it be repaired or does it just need to be replaced. It is a ESRCL 200 Monarch Pool System salt water. I have the cylinder still in the box unused. Thanks
Blog
Warm Springs Pool and Spa Repairs 0409 874 343 Making sure that your pool contains the right amount of salt is extremely important. You want to make sure that it stays sanitized at all times and this will help to make sure that the pool water stays clear and clean. To do this you need to check often to make sure that you have the appropriate amount of salt in the pool and also check to make sure that all other levels of the pool are where they should be. Here is how to check using Aqua Chek test strips to make sure that your salt is right on track. First Use The Test Strip To use the strip you will need to get a sample of water from the pool. You when the dip the strip into it for the time that is required. Once you have done this and you get a reading on the amount of salt you will be able to begin the process of figuring out if you need to add any salt to the pool. Check Your Manufacturer Requirements Now you need to look at the amount of salt that is required for the size pool that you have. This should be found on the book that you got with your pool. If you no longer have the book then you will need to look elsewhere... Full article ⇢
Warm Springs Pool and Spa Repairs 0409 874 343 How Does Salt Water Pool Chlorination Work? Many people have started to look into salt water pools. The idea with these is that there is far less maintenance needed than with the traditional chlorinated pools. However, it helps if you are able to understand how this type of pool works and how it differs from the traditional pools of the past. Here is a little information to help you understand how these pools work. Salt Water Pool Chlorinator There is a salt water chlorinator unit with this type of pool. The job that it has is to make sure that it turns the salt into chlorination as it passes through the system. The chlorine generator breaks down the salt and water to sodium hypochlorite and hypochlorous acid. These are agents for sanitizing that are used commonly in pools. So as you can see these pools are not chlorine free but instead they simply use a generator instead of having to add the chlorine in directly. For a technical explanation of pool chlorination go to http://en... Full article ⇢
Warm Springs Pool and Spa Repairs 0409 874 343 When to clean and service your swimming pool chlorinator When to Clean the Chlorinator A water chlorination system is designed to sanitize a swimming pool in the safest fashion available on the market. Salt water chlorination is one of the most popular means by which individuals sanitize their pools. Chlorinated water has a very benign and gentle effect on your body, face, skin, as well as your eyes. Essentially, a chlorinator goes through a systematic process in order to cleanse the water and add chlorine molecules to it. In this device, there are metal electrodes that take ordinary salt water, and convert it into chlorinated water by means of electrolysis. In some cases, however, a chlorinator cannot properly do its job because it has suffered a gradual build up of specific minerals, which leads to the increase in what is termed hard water. This then creates an obstacle for the electrolysis device, and obstructs its ability to produce chlorine. When this occurs, it becomes necessary to to clean this device in order to endure the production of chlorine in the pool. How to Clean the Chlorinator Using a few simple steps, you can in fact clean this chlorine system in your pool if it has become clogged with certain minerals. The first step to cleaning this device is to shut down the pool pump, especially since you will be attempting to clean the electrolysis cell... Full article ⇢
Warm Springs Pool and Spa Repairs 0409 874 343 Astral are a major supplier of Australian pool chlorinators: Viron salt chlorinator E25 salt chlorinator VX salt chlorinator Viron eQuillibrium Onga also supply chlorinators: Eco Chlor SM Davey Monarch Pool Chlorinators:   Eco Salt Ecomatic Ecomatic Commercial Aquachlor Chloromatic If you need a Perth pool chlorinator technician then we can help. ... Full article ⇢
© 2019